This is my latest painting called "A Peaceful Night" which was custom created for my lovely friend Danyell. It is 24 X 36 inches, created with acrylics.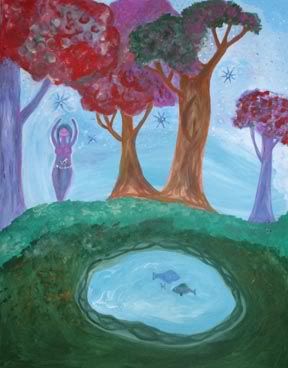 It feels like wherever the energy was stuck, it is moving forward. I recently reclaimed the passion I had for some of my childhood books. One of my favorites was
Little House in the Big Woods
by Laura Ingalls Wilder. Yesterday I serendipitously stumbled upon an older copy of
By the Shores of the Silver Lake
. I decided I'm going to start collecting my favorite children's literature to save for my daughters. I believe it will be a precious gift because I am passing on a piece of my history, or HerStory rather.